CHERYL HENDERSON
Controller
Cheryl Henderson serves as the controller of Associa's rental division and is responsible for directing all accounting operations for Associa's 14 rental branches.
Before joining Associa in February 2019, Ms. Henderson was the corporate director of accounting for Avero Diagnostics, an Anatomical Pathology Lab headquartered in Las Colinas, TX with offices in Lubbock, TX and Ann Arbor, MI. Prior to Avero, she served as the corporate finance & accounting manager for Greystar Real Estate Partners (Riverstone Residential Group merged with Greystar in 2014), where she was responsible for financial reporting, cash management, accounts payable, budgeting, internal and external audits, corporate taxes, and insurance. She currently serves as the director of finance for Imagine Well LLC, a Dallas non-profit, and volunteers her time during tax season to prepare tax returns for the elderly and less fortunate.
Ms. Henderson earned a BBA in Business Administration with a minor in accounting from The University of Texas at Arlington, and her MBA from The University of Phoenix. She is also a member of the National Society of Tax Preparers and the National Notary Association.
Favorite Quote: "I've learned that people will forget what you said, people will forget what you did, but people will never forget how you made them feel." - Maya Angelou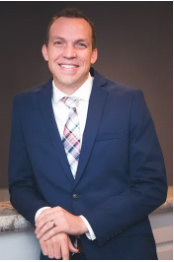 KIRK GILLESPIE
Vice President
As the vice president of rental operations at Associa, Kirk Gillespie focuses on standardizing companywide rental operations, driving future growth, and establishing a culture of teamwork and helpfulness.
Mr. Gillespie has more than 12 years of real estate investment and property management industry experience and has held several leadership positions, including vice president, branch manager, and managing broker. He has been a valued team member at industry-leading companies such as Property Frameworks, ONEprop Inc., and Pathlight Property Management, with nearly 30,000 individual units under his management.
Mr. Gillespie holds a bachelor's degree in Communications from Brigham Young University-Idaho and a master's degree in Organizational Communication from Eastern New Mexico University. He also holds multiple broker licenses across the continental United States.
Favorite Quote: "Teamwork makes the dream work!" - John Maxwell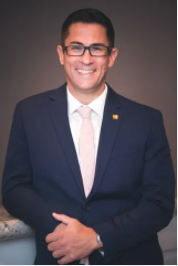 CHARLES RISKA
President
Charles Riska is the president of rental operations at Associa. In this role, he oversees Associa's SFR division, RHOME, the Vacation Rental Division, AA Oceanfront, and is responsible for driving growth strategies in markets across the continental United States, Hawaii, and Canada. His core focus is to help streamline, improve, and enrich the company's rental strategies, with an emphasis on data-driven decision making, accountability, and collaborative execution.
Before joining the Associa family in 2018, Mr. Riska served as the chief operating officer of ONEprop Inc., a Dallas-based real estate and property management company with operations in 14 markets across the United States, until ONEprop Inc. was purchased by NRT Property Management LLC in 2016. As chief operating officer at NRT, he managed the day-to-day operations of roughly $3 billion of real estate assets. Prior to working in real estate, he owned and operated an Independent Insurance Agency that managed the risk side of the rental industry and supported SFR investors.
Mr. Riska holds a BBA in International Business and Economics from the University of North Texas and is a graduate of Harvard Business School's Executive OPM program. He is also a Licensed Real Estate Broker, Licensed General Lines Insurance Agent, a member of the National Association of Residential Property Managers (NARPM), and has served on the Dallas Chapter Leadership Committee as well as national committees.
Favorite Quote: "People don't buy what you do; they buy why you do it." - Simon Sinek